UK Nationals 2014
The UK Nationals where played at the Birmingham Futsal Arena on the 10-11th of May, with the 12 top teams in the UK competing.
As we ended last in our group (on goal difference) we played for position 9th-12th on the Sunday. We beat Warwick 2-1 and London Hammerhead Sharks 3-2, which means we finished in 9th place.
A bit unfortunate as we were the only team to beat London Great White Sharks!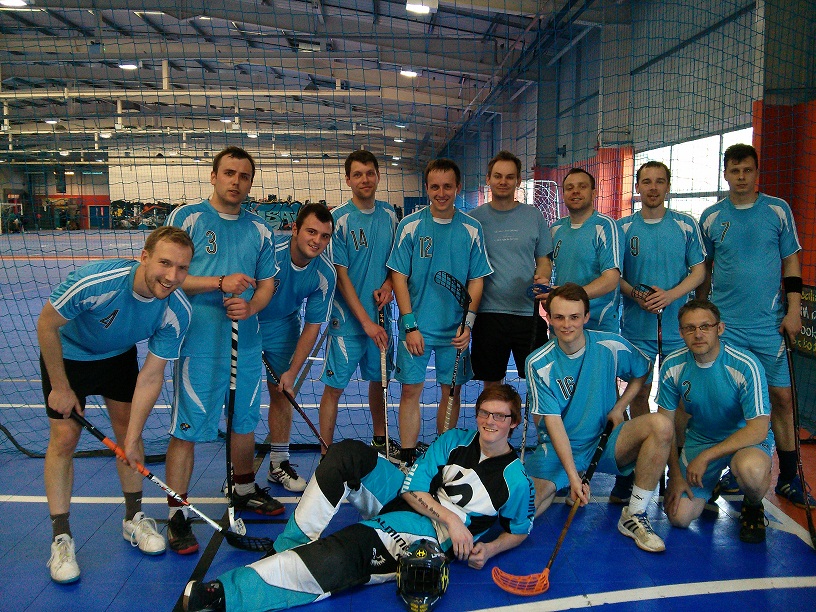 Team left to right: Linus, Daniel, Richard, Ondrej, Micha, Sean, Ollie, Lada, Petr, Toke, Johan, Juraj
Final
Teams
Result
London Great White Sharks - United Cities
6-3
Semi Finals
Teams
Result
Hereford - London Great White Sharks
4-5
United Cities - Aberdeen Oilers
7-3
Quarter Finals (top two teams from each league)
Teams
Result
Hereford - Bath
13-7
London Great White Sharks - London Vikings
7-3
United Cities - Kingdom Revolution
14-3
Oxford - Aberdeen Oilers
3-4
League matches
League A
Teams
Result
Warwick - Unitted Cities
2-4
Bath - Warwick
7-2
United Cities - Bath
13-2
League B
Teams
Result
Kingdon Revolution - Hereford
3-7
Hereford - Grantham Thundercats
8-5
Grantham Thundercats - Kingdom Revolution
2-8
League C
Teams
Result
Cambridge - London Great White Sharks
3-2
Aberdeen Oilers - Cambridge
6-4
London Great White Sharks - Aberdeen Oilers
7-4
League D
Teams
Result
Oxford - London Vikings
5-4
London Hammerhead Sharks - Oxford
3-6
London Vikings - London Hammerhead Sharks
9-3